SLIEVE FOYE AND CARLINGFORD MOUNTAIN DAY HIKE
Moderately Hard approx. 13 km long Height gain 672m
TRIP DETAILS
We will meet and start our hike in the beautiful seaside village of Carlingford. We will walk through the village and past two castles, St Johns from the 13th century (King John supposedly stayed here for 3 days in 1210) and the later Irish tower house Taaffe castle.
 Throughout this entire walk we will have stunning views of Carlingford Lough and the Mournes Mountains to the north and perhaps the Dublin hills and even the Isle of Man.We continue uphill along a small narrow trail and pop out into the open countryside heading for the saddle of Barnavave here we can listen to the stories of Queen Maeve and the brown bull of Cooley or her nemesis, the legend that is Cuchulain. Here we will go off main trail in a North West direction and head along the spur towards the very steep summit of our high point for the day Slieve Foye at 588m, the highest point in all of Co. Louth.
From the large Trig pillar we follow the broken ridge all the way to Eagles rock and from there we will head in a northern direction down on some steep ground, to the Tain way and a super trail that brings us back to St Johns castle and to our carpark at Carlingford.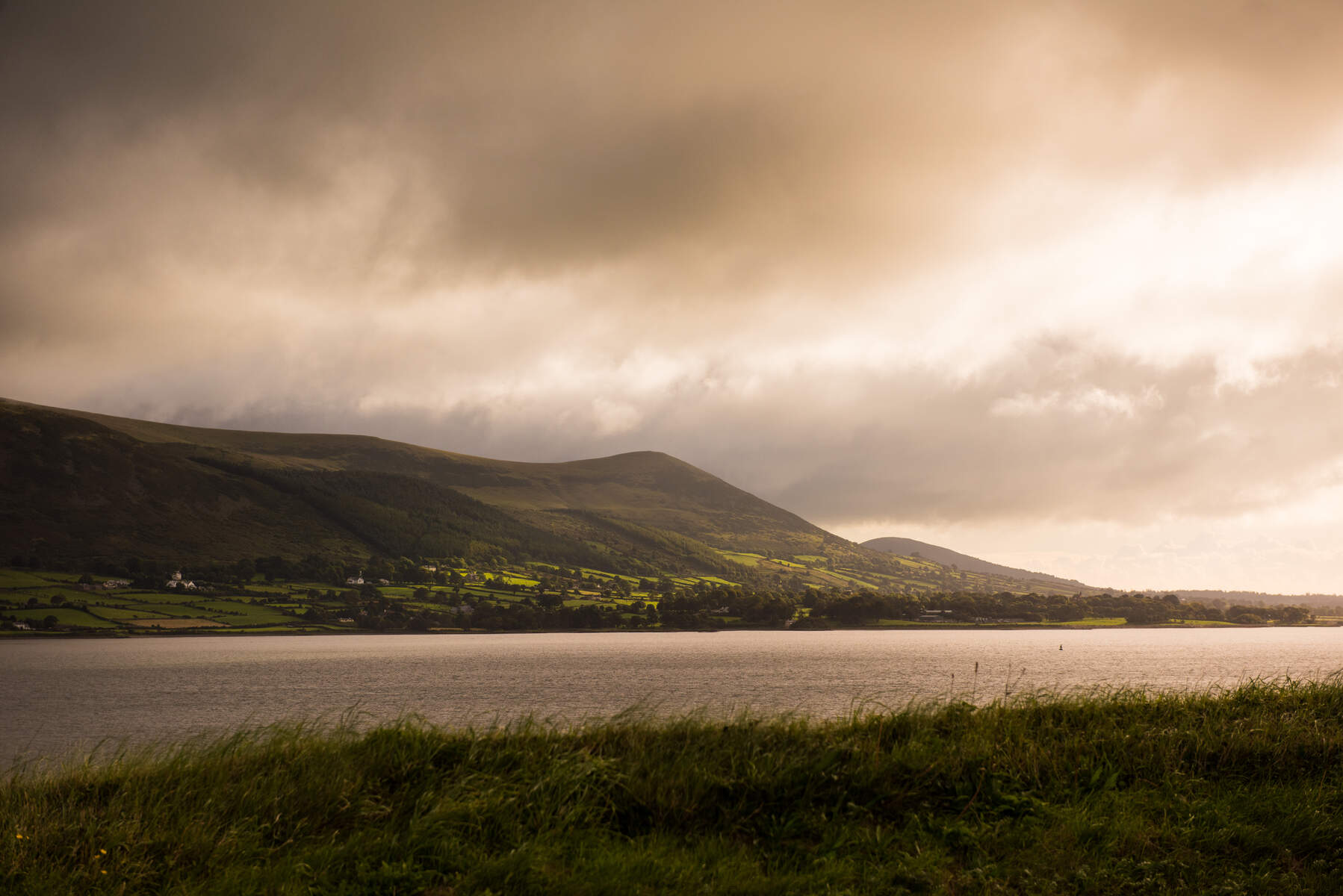 MEETING
The carpark at Carlingford tourist office at 10.00am
HOW TO GET TO START
EXPECTED DURATION
EXPECTED TERRAIN
Some good trails of hardcore but a lot open hillside both rocky, uneven and mucky.
Minimum of 4 people require for hike to run
WE INCLUDE
A professional qualified mountain leader with first aid certification and insurance. A passion to share the area we know so well. Including sharing stories of the amazing history over thousands of years. Pointing out the Flora and Fauna of the area and sharing an understanding of the geology of the area of Wicklow.
ESSENTIAL EQUIPMENT
Waterproof boots and waterproof clothing are always needed. Please do not wear jeans walking trousers are advised and comfortable upper clothing, if possible avoid cotton as it tends to get wet and make you feel cold. Bring spare warm layer e.g. fleeces, Down jackets; hat and gloves; lunch and/or snacks; water, (1.5 litres); small rucksack to carry it all in. Walking poles are optional. Flask of hot tea or coffee if prepared to carry it. Camera and sunscreen.  Ensure you bring any of your own essential medicines. Bring poles if you have them.
TERRAIN
Generally uneven rough and steep ground and some hardcore paths. Uneven mountain paths and steep hillside with some hardcore trails also.
BOOK THIS TOUR
If you'd like more information on this tour or wish to change aspects of it to suit your needs, please Contact Us.
BOOK NOW