ONE DAY NAVIGATION COURSE
Strenuous hike: Duration 1 day
TRIP DETAILS
How to read and understand maps. including setting of the map, its index, contours and scales.
Basic Compass work, Understanding and how to use a compass, including taking a bearing and following it.
We will discuss the fundamentals of Leave no trace and how you should incorporate it into your planned walk.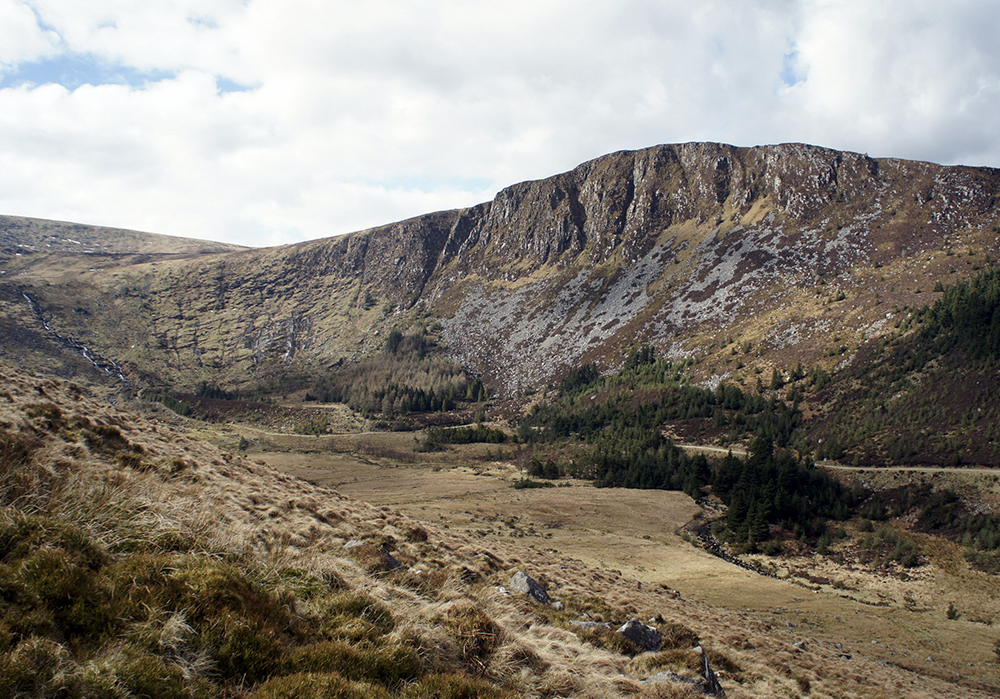 MEETING
Introduction to map reading and compass work:
Meeting at 8.30 am. This is a one-day course is held in Lackan, Co. Wicklow. This is a great area with plenty of trails and mountain features, to learn and practice your new skills.
At the end of this course you will have a good understanding of how to read a map and how to use your compass properly for navigating on the hills, although practice does make perfect. The course is taught both indoors and outdoors.
FIRST OUTDOOR SESSION
Introduction to your map and other types of walking maps. (Here we start using OSI sheet 56 for this course)
Scales of a map, what they mean. 1:50,000, 1:25,000
Grid references what are they and how to get them
What is a map representing,
Understanding features on your map, trails, and rivers. Contour lines, index.
Introduction to your compass
OUTDOOR SESSION
How to set your map with your location.
Recognise features like saddles, peaks, gulleys and spurs, on the ground and on your map.
How to choose a safe route for your hike.
Timing and Pacing for measuring distances on the ground.
Taking a bearing from your map to walk on.
How to measure distance from your map and apply this to the ground.
Using some simple navigation techniques to get to your required location.
Wear or bring appropriate clothing as we will be stopping a lot.
The course will be taught by a recognised Mountain Leader and skills provider with Mountaineering Ireland.
EXPECTED DURATION
1 day   Starting 8 30 and finish around 4 0clock
https://www.google.com/maps/dir/M50,+Co.+Dublin/Lacken,+Co.+Wicklow/@53.2494952,-6.6163771,11z/am=t/data=!4m15!4m14!1m5!1m1!1s0x48670ea9a1af68c7:0x6f1d1a9065ef16ef!2m2!1d-6.3876903!2d53.3395245!1m5!1m1!1s0x48679c6e65741a1b:0x2600c7a819bafbd2!2m2!1d-6.4907238!2d53.1401921!3e0!5i2
Price € 65.00 per person.
Minimum of 4 people require for hike to run
CANCELLATION POLICY
A cancellation fee of 100% applies for cancellations made less than 72hrs in advance, or in case of no-show.
A cancellation fee of 50% applies for cancellations made less than 10 Days in advance.
No cancellation fee applies for cancellations made 14 days or more days in advance.
WHAT TO BRING
Walking Boots
Rain gear jacket and pants
Backpack
OSI Sheet 56 Map
Compass Silva Type 4
Packed lunch and snacks
Extra Tops
A heavy fleece or down jacket
Sun Cream
Water minimum 1.5 litres
Gloves and hats
Any essential medicines.
Lunch – Bring your own lunch and tea, as we will head straight out onto the trails. We will try getting as much in as possible. So we will eat lunch on the go or and a short stop.
We use OSI Sheet 56 on this course and Silva 4 type compass. Get yourself a water proof map or a waterproof case to keep your map dry and secure. Zip lock bags will do also.
BOOK THIS TOUR
If you'd like more information on this tour or wish to change aspects of it to suit your needs, please Contact Us.
BOOK NOW