Hill of Howth circuit.
Gentle (hike level) Approx. 3.5 hours and 12.5km long with 360m of ascent.
TRIP DETAILS
We will meet at the the car park beside the public toilets on the main Howth pier in North county Dublin. This is a lovely gentle hike, ideal for those starting to go hill walking and some gentle steeper ground that gives epic views of the sea and back onto the Dublin city skyline and beyond to the Wicklow and Mourne Mountains.
Our hike starts on the quiet road up past the Martello tower and the ancient Tower hill past the home of WB Yeats and within 5 mins we turn onto the coastal path along side the Irish sea gaining gently in height as we go and on up to the summit area all the while keeping our eyes focused on the amazing Birds and sealife. Then we continue down to to the legendary Bailey Lighthouse. From here we continue along the cliff trail heading onto hidden gems of tiny beaches and epic viewing points of Dublin bay. After Red Rock beach we will head in land and go to the highest point on howth, Binn Eadir, at 171m. Here we can see most of Howth, Irelands eye and Lambay and the majestic Wicklow and Dublin peaks plus the Mourne mountains to the North. Finally we start returning back towards our meeting point via the very famous and ancient Cowbooters lane. Here we can chat a little about the ancients Na Fianna hunting grounds or maybe remember the rebel Silken Thomas in 1534 and his cannon. Finally we will arrive back to our starting point at the end of a super walk..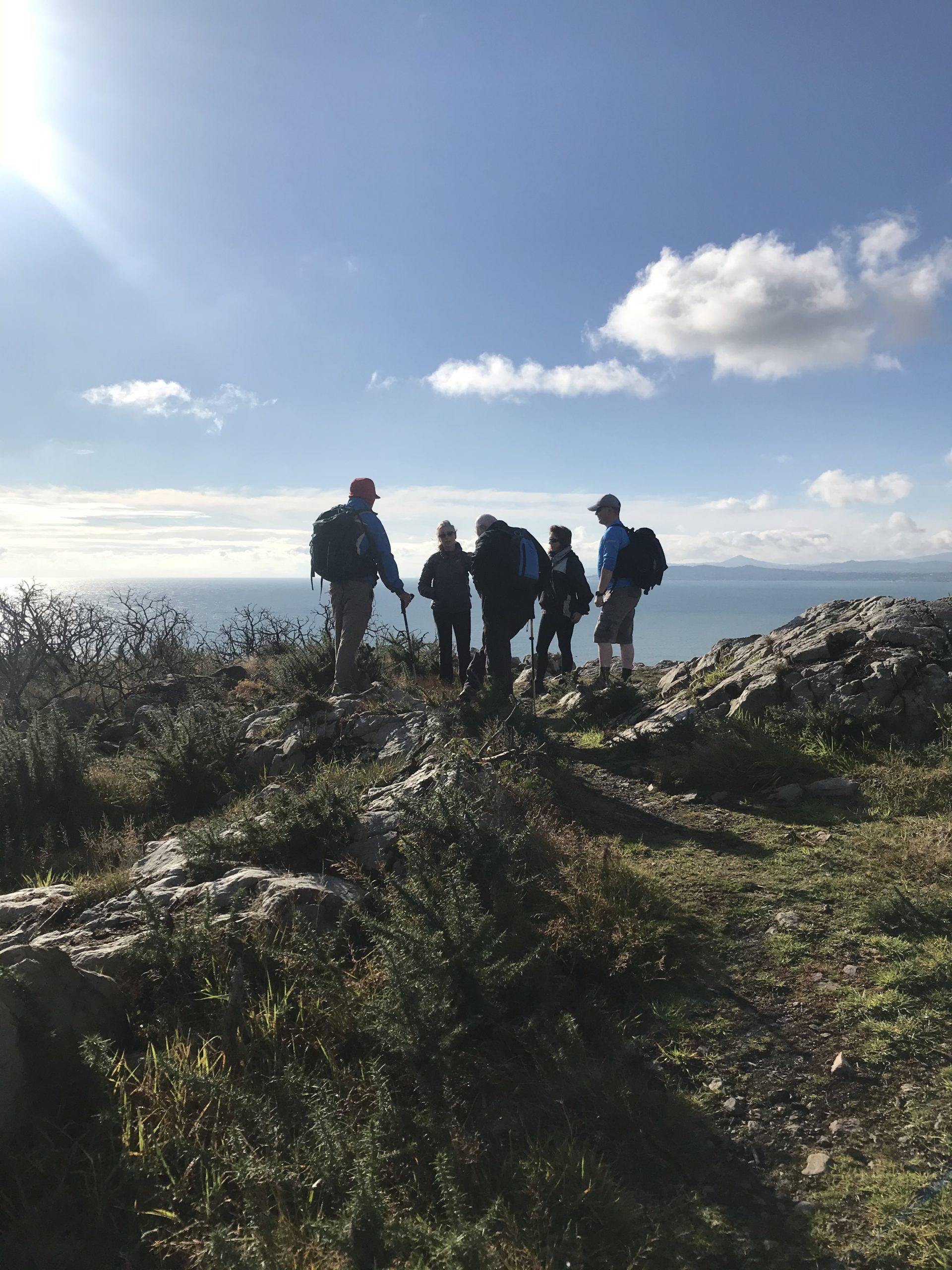 START TIME
We will meet at small carpark beside the public toilets at the start of the big pier and opposite the King Sitric Restaurant at 9.15am
HOW TO GET TO START
EXPECTED DURATION
3.5 hours
EXPECTED TERRAIN
Generally  a decent trail with some mixed and a little uneven and muddy in some places. The trails are small and narrow, there is also a very small amount of road walking also.
Minimum of 4 people require for hike to run
WE INCLUDE
A professional qualified mountain leader with first aid certification and insurance. A passion to share the area we know so well. Including sharing stories of the amazing history over thousands of years. Pointing out the Flora and Fauna of the area and sharing an understanding of the geology of the area of Wicklow.
ESSENTIAL EQUIPMENT
Waterproof boots or sturdy runners and rainproof clothing are always needed. Please do not wear jeans walking trousers are advised and comfortable upper clothing, if possible avoid cotton as it tends to get wet and make you feel cold. Bring spare warm layer e.g. fleeces, Down jackets; hat and gloves; lunch and/or snacks; water, (1.5 litres); small rucksack to carry it all in. Walking poles are optional. Flask of hot tea or coffee if prepared to carry it. Camera and sunscreen.  Ensure you bring any of your own essential medicines.
TERRAIN
All mostly on small trails and some uneven ground.
BOOK THIS TOUR
If you'd like more information on this tour or wish to change aspects of it to suit your needs, please Contact Us.
BOOK NOW