LACKAN MASS TRAIL & SORREL HILL AND BLACK HILL CIRCUIT
(Moderate hike level) Approx. 5 hours and 14.5km long with 590m of ascent.
TRIP DETAILS
We will meet at small carpark at the church of Our Lady Mount Carmel in Lacken  Wicklow. This is a lovely moderate hike, ideal for those wanting a longer day and some steeper ground that gives epic views of the lakes and back into the Wicklow Mountains.
Our hike starts on the road and within 5 mins we turn onto the old mass trail which leads up through the forest, to the ridge and onto Lugnagun. From here we return back to the saddle and continue on up the spur to the large cairn on Sorrel hill. We will have stunning lake views as well as the high peaks of Wicklow like Mullaghcleevaun. Next we hike downhill in a southern direction to a wide col and then continue up the gradual slope with lots of Heathers to see and Fraughan berries to eat. Finally we arrive at the high point of our day Black Hill at 602m. From here it's pretty much downhill most of the way back as we head off to the East to pick up a small trail. This brings us to the crash site of the Hampden bomber from WW2 in 1941 and eventually on to the road. We follow this quiet road past a Mass rock and an old Cillin, which takes us back to the cars.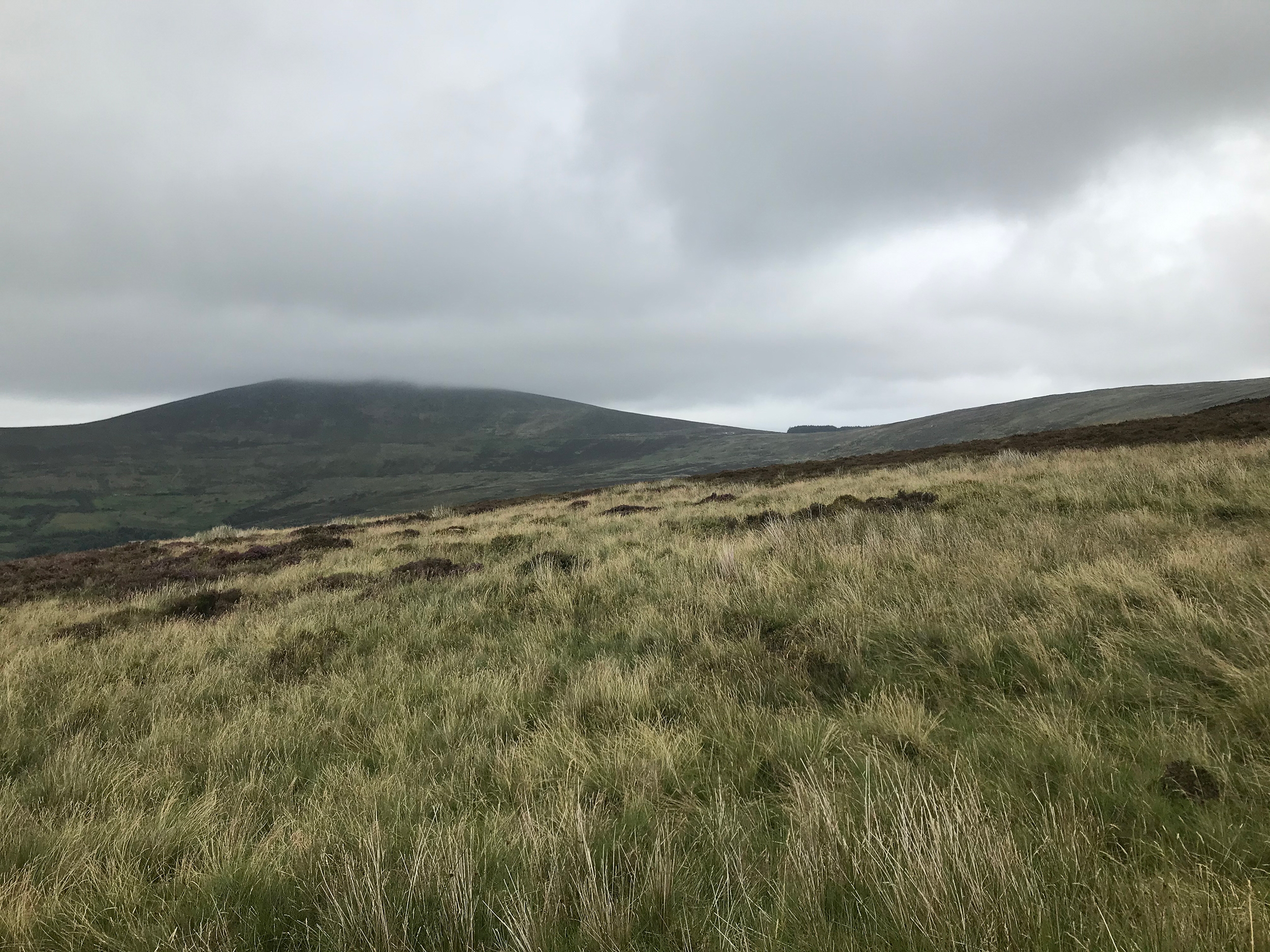 START TIME
We will meet at small carpark at the church of Our Lady Mount Carmel in Lacken  Wicklow at 10.00am
HOW TO GET TO START
EXPECTED DURATION
EXPECTED TERRAIN
Generally mixed, a little uneven and boggy on the ridges. Lots of open hillside with heathers and small trails. Quite some road walking also.
Minimum of 4 people require for hike to run
WE INCLUDE
A professional qualified mountain leader with first aid certification and insurance. A passion to share the area we know so well. Including sharing stories of the amazing history over thousands of years. Pointing out the Flora and Fauna of the area and sharing an understanding of the geology of the area of Wicklow.
ESSENTIAL EQUIPMENT
Waterproof boots or sturdy runners and rainproof clothing are always needed. Please do not wear jeans walking trousers are advised and comfortable upper clothing, if possible avoid cotton as it tends to get wet and make you feel cold. Bring spare warm layer e.g. fleeces, Down jackets; hat and gloves; lunch and/or snacks; water, (1.5 litres); small rucksack to carry it all in. Walking poles are optional. Flask of hot tea or coffee if prepared to carry it. Camera and sunscreen.  Ensure you bring any of your own essential medicines.
TERRAIN
All mostly on small trails and some uneven ground.
BOOK THIS TOUR
If you'd like more information on this tour or wish to change aspects of it to suit your needs, please Contact Us.
BOOK NOW